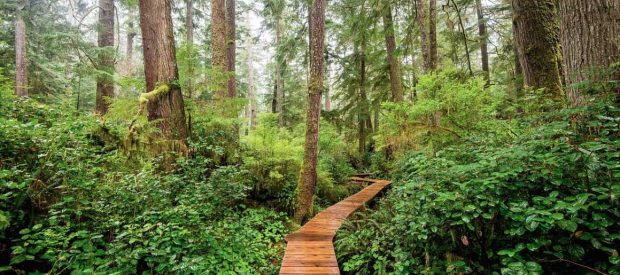 Stunning beaches, temperate rainforests, wildlife viewing and storm watching are just a few of the fantastic, awe-inspiring experiences when hiking the trails in Tofino and Ucluelet, located on the west coast of Vancouver Island in British Columbia.
Most of the trails on this site are within Pacific Rim National Park – a true BC paradise with its seemingly never-ending beaches, massive rock formations, rare ecosystems and majestic forests.
Hiking through Pacific Rim Park is an ideal way to enjoy the area's spectacular scenery, lush forests and rugged Pacific Ocean coastline. The hikes featured on Tofino Trails are relatively short and easy; in fact, several hikes can be completed in one day. All the trails are entirely unique, and offer an opportunity to discover and explore the area's natural diversity.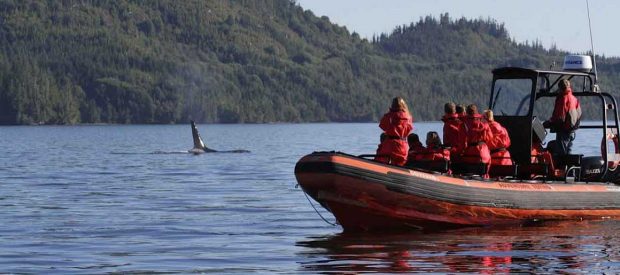 Whale watching from shore can be a challenge, unless you have very good binoculars and tremendous patience and/or a hefty dose of good fortune. Fortunately for whale lovers, a number of different outfitters will take you out whale watching. Most companies offer the option of going out in an open Zodiac-type of boat or in a covered aluminum craft. Part of the fun of the Zodiac experience is getting suited up in the bright red safety suit and capturing the moment with a photo! Dress warmly, because it's always cooler on the water. Ask the tour company about which type of vessel is best suited to your party.
Most whale watching trips last between 2-3 hours. You can expect to see Pacific Gray whales during your trip and possibly Humpback whales. You will likely encounter bald eagles, harbour seals, Steller and California sea lions, sea otters and, if you are very lucky, orca whales or porpoises. The price and policies for adults and children wishing to go whale watching in Tofino vary according to vessel type, trip length and services offered. You can find departure times throughout the day, including sunset whale cruises.